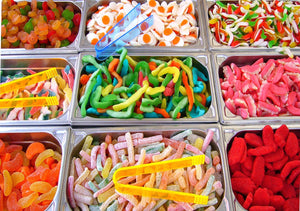 Encyclopaedia of Sweets - Beginning with K
Sweet hampers make the perfect gift. Here at the Sweet Hamper Company, we make hampers extra special with personalised sweets! Do you know a Kyle, Kylie, Kevin, Kayla, Keiran, or a Katherine, that would go crazy for a sweet hamper filled with "K" sweets? If so, you're in the right place! These are some of our favourite "K" sweets to treat your friends and family to! 
Kit Kats
Kit Kats are the world's favourite "K" sweet! Kit Kats are chocolate-covered wafers produced by Nestle. Kit Kats consist of two or four chocolate fingers that are snapped off and popped into your mouth. The original Kit Kat was just milk chocolate and wafers. Now, there are over 300 different Kit Kat flavours to try! We love the white chocolate, dark chocolate, matcha, strawberry, orange, and caramel flavours. In Japan, you can find some really weird Kit Kat flavours. Some of the strangest ones are sweet potato, chilli powder, and soy sauce. Wow! Is your "K" friend adventurous enough for one of these crazy flavours or would they want the classic selection in their personalised sweet hamper? 
Kisses
Hershey's Kisses are the cutest "K" sweet. Hershey's Kisses are little drops of bite-sized milk chocolate. They are sometimes described as "flat bottomed teardrops" due to their distinctive shape. Hershey's Kisses are wrapped in a lush gold foil. They are the perfect addition to a sweet hamper! Hershey's Kisses were first made in 1907 by the Hershey's brand. Ever since, they have been a much loved sweet, particularly by people who have a "K" name! 
Krackel Bar
A Krackel Bar is another Hershey's brand chocolate! Crisp rice pieces are wrapped in milk chocolate covering. The Krackel Bar has been a staple of the Hershey's brand since 1938. The Krackel Bar is a chewy, nutty, sweet, delectable chocolate bar. It's a very unique candy bar that will be a fun surprise in a "K" sweet hamper. 
Kinder Chocolate
Kinder chocolate is a brand of chocolate bars produced by the Italian brand, Ferrero. Kinder chocolate comes in all sorts of shapes and sizes. Their best seller is the Kinder Surprise. Inside the hollow chocolate egg is a small toy. Kinder chocolate also comes in chocolate bars. The chocolate bars are filled with a sweet, creamy filling. Kinder chocolate is adored by people of all ages. Pop a Kinder Surprise in your sweet hamper today! 
Or why not try one of our very own kinder bueno chocolate hampers. 
Klondike Bar
Klondike Bars are frozen desserts that come in bars, sandwiches, and doughnuts. Klondike bars are ice cream desserts coated in a thin layer of milk chocolate. Klondike Bars may not be suitable for a sweet hamper due to the high risk of melting, but they will always be a lovely treat for you or your friends and family. 
Kits Taffy
Kits Taffy was first made in 1924. Kits Taffy is the original chewy, soft candy. Now, there are so many different brands and flavours of taffy. Kits is the best in the business. Choose Kits for the highest standard taffy available! 
Koko
Koko is a European favourite! Koko is a hard boiled candy that is flavoured with coconut. Koko is a delicious sweet that will brighten anyone's day!
Kandy Korn
Kandy Korn is a tiny orange and yellow pyramid-shaped candy. They are slightly chewy and waxy in texture. Kandy Korn tastes a bit like a combination of honey, butter, and vanilla. The flavours are inspired by a warm fire after a chill Autumn day! Americans love to eat Candy Corn around Halloween time. As soon as the leaves start to fall off the trees, Kandy Korn comes out to celebrate the holidays. Add Kandy Korn into your sweet hamper today!
Kola Cubes
Kola Kubes are retro boiled sweets. They feature a chewy cola flavoured centre and a sweet sugary coating. Your vintage-loving friend will be obsessed with these tried and true sweets. 
We have kola cubes included in a large number of our 60s sweets.
Kendal Mint Cake
Kendal Mint Cake is a peppermint flavoured confectionery bar. The Kendal Mint Cake is very popular amongst English climbers and mountaineers. They love to pack a Kendal Mint Cake in their backpacks for an added boost of energy. Kendal Mint Cake is a lovely, unique sweet that many people haven't even heard of! Pop a Kendal Mint Cake in your sweet hamper for any adventurers you know! 
Quality over quantity! There are not many "K" sweets out there at all. Regardless, these "K" sweets are some of our favourites. Personalised sweet hampers are a fun, unique gift for your friends and family. Stuff a hamper full of these "K" sweets, along with some of their favourite treats, and you'll really make someone's day! 
---