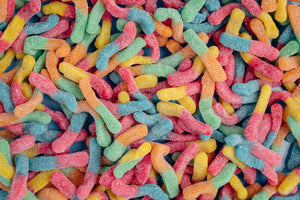 Sweets Beginning with R
We continue our taste bud tingling adventure through the A-Z of sweets with a letter that brings up some nostalgic playground classics from some of the most renowned candy names to modern day favourites.
There is some great candy beginning with the letter R – including all-time great British chocolate bars and prewar sweets that have stood the test of time. So, join us as we delve through the delicious details to discover the stories behind sweets, chocolate and candy that starts with R.
Don't forget... many of these sweets can be found in our wide range of sweet hampers, sweet boxes, sweet cones and other sweet gifts. The perfect treat for the special people in your life!
Sweets Beginning with R
Revels
A popular U.K. chocolate mix, Revels were created by Mars in 1967, but first became widely popular in the '90s. Consisting of six different flavours – each with its own shape and texture – Revels the perfect bite sized chocs for those who like a bit of variety in their life.
The different Revels flavours are orange (soft centre with a tinge of orange and a milk chocolate coating), Maltesers (the much loved British classic), raisin (chocolate coated raisin in an elliptical shape), caramel toffee (caramel chewy candy, the same shape as the raisin flavour, chocolate (button shaped, plain milk chocolate) and coffee (soft centred coffee flavoured balls, identical to the orange ones).
For some who hated a certain flavour – particularly the much maligned coffee Revel – eating a bag of Revels was like a game of sweet Russian Roulette. The coffee Revel was, in fact, 'evicted' during a Big Brother style vote, as a marketing campaign tied into the reality TV show. You can't keep a good Revel down however – it returned less than a year later.
Ripple
Galaxy's creamy, sweet and wonderfully silky chocolate bar is one of the U.K.'s favourites, with a unique taste and texture that truly melts in the mouth. Made by Galaxy way back in 1969, the secret to the success of this velvety chocolate bar lies in the precision of its manufacturing process. Due to their length they make for a perfect inclusion into our chocolate bouquets!
The cocoa, milk and sugar are mixed together to form the chocolate, which is then finely milled down to a teeny tiny micron level until it is, quite literally, as smooth as silk. From here, the chocolate is tempered to give it a bit of bite and that beautiful gloss on the outside.
As the chocolate cools, it is swirled into ripples, cut into bars and finished with a curtain of chocolate. Voilá! The way it's made, with the swirling, rippling effect on the inside, means that every Ripple is unique, with no two bars the same.
Interestingly, the iconic velvety brown packaging only came into play in 1988 – about the same time that Ripples saw a rise in popularity. Before that, the wrapper was blue and yellow and far less enticing.
Rolos
Would you give up your last Rolo? Anyone around in the '90s remembers Rolos as the ultimate romantic gesture – to give up your last Rolo was about as pure an act of love as any sweet-toothed chocoholic could make!
The genius of Rolos is in the shape. Okay, they taste wonderful – the rich milk chocolate coating and creamy toffee centre means they melt in the mouth like no other sweet – but the shape is iconic. Little conical rolls of chocolate that entice at first sight, Rolos tantalise the taste buds at first taste.
Introduced by Mackintosh's – the sweet makers behind Quality Street – way back in 1937, Rolos were part of a wave of delicious new toffees and caramel based sweets in Britain during the prewar and post-war era. In the '90s they attained superstar sweet status, in part thanks to the marketing campaign with the slogan "Do you love anyone enough to give them your last Rolo?"
The makers eventually dropped the line in 2003. With a sly wink to consumers, they removed a Rolo from the packet – dropping a pack from 11 to 10 – and taking the last Rolo for themselves.
Refreshers
Not to be confused with Refresher bars and Refresher Choos made by Swizzels, Refreshers are a round tablet hard candy, with a fizzy, fruity flavour. Made by Barratt's in the 1940s, these fizzy, hard and crunchy refreshers predate the chewy Refresher bars by Swizzels by a decade and a half, making them the original Refreshers.
Are they the better kind of Refreshers? Well, that depends on your taste in sweets. These classic bite sized candies are perfect for a quick pop in the mouth and fast fizz, with a tanginess that tickles your taste buds. A far easier sweet eating experience than the other kind...
Refresher bars
Invented in 1955, just 15 years after Barratt's dropped their fantastic fizzy sweets in another part of the country, Swizzels Refresher bars have a seriously chewy outside and a sweet sherbet centre, for a unique one-two taste sensation. These long bars are an easy inclusion into a number of our sweet bouquets.
These candy bars are extremely chewy – kids have been known to lose a tooth or two over the years – but still remain very popular to this day.
Swizzels Refreshers now come in bars, squashies (soft candies) or individually wrapped sweets known as 'Choos', with flavours that include lemon chew bar, sour apple and strawberry.
Are you a fan of these fabulously fizzy sweets? Don't miss out on our incredible Refresher Sweet Bouquet!
Rainbow Drops
These colourful candies were one of the very first Swizzels sweets. Launched in the 1930s, Rainbow Drops are little puffy drops made from maize and rice, then sweetened and flavoured with other ingredients.
There are four different colours – purple, green, yellow and orange – all of which are coloured naturally using beetroot, carotene (the stuff that's in carrots), paprika and copper chlorophyllin (a natural green colourant).
With a wonderful crunchy texture and melt in your mouth taste, Rainbow Drops have been a popular kids' treat for generations.
Rhubarb and Custards
A 1960s pick 'n' mix sensation, rhubarb and custard sweets have an intriguing balanced taste. The rich creaminess of the custard meets the sour zing of the rhubarb, for a fabulous fusion that leaves your taste buds razzled and dazzled by the sheer deliciousness of it all.
These squishy squashy retro sweets come in the form of soft chewy mini rolls, with a fondant centre that melts in the mouth. Made by the German sweet pioneers Haribo, you can enjoy Rhubarb and Custards as part of our Huge XL Sweet Hamper!
Roses
The iconic assortment of soft centred chocolate delights, Cadbury's Roses are one of the nation's most beloved sweets. First introduced in the UK back in 1938 as a direct rival to Mackintosh's Quality Street, they are said to be named after the "Rose Brothers" – the company that made the machines that wrapped the chocolates. However, another story is that the name was given by Dorothy Cadbury, a company director of the company, who was also a botanist.
The go-to gift for Mother's Day in the UK, Roses come in 8 varieties: golden barrel, caramel, country fudge, hazel in caramel, strawberry dream, tangy orange creme, signature truffle. While Cadbury's recently announced a major shakeup of the flavours Down Under, the UK flavours will remain the same.
Take your regular Roses gift to a whole new level with our Chocolate Bouquet For Her, which includes a box of Cadbury's finest alongside a whole load of other delicious chocolate treats.
Riesen
Dark chocolate caramels with a chewy texture and rich chocolatey taste, Riesen is Germany's original candy brand and still one its most famous to this day. Riesens come individually wrapped in a long bar, or in a big pouch, the chewy toffee centre enrobed in a luscious, rich layer of dark chocolate.
Riesen chocolates were invented in the 1930s, becoming Germany's first wrapped and branded candy. By the 1990s, it had expanded across the world, becoming particularly popular in the U.S. and the U.K.
Runts
An '80s classic, Runts were a staple sweet in playgrounds throughout the UK. Fruit shaped hard candies with a sweet tangy taste, Runts came in a medley of fruity flavours – red for strawberry, green for lime, purple for grape, yellow for banana and orange for, well, orange of course.
Originally made by Nestle for a time, Runts are now made by the Ferrara Candy Company. They come under the Wonka line of sweets.
Reese's Peanut Butter Cups
The iconic American peanut butter and chocolate, Reese's might not be well known in the UK, but in the States it's practically a national institution. Invented by The Hershey Company, Reese's Peanut Butter Cups are cup-shaped delights, with a smooth peanut butter filling encased by delicious milk chocolate.
There's a king sized version, of course – Reese's Big Cup Crunchy. If you're a big fan, check out our incredible Reese's Chocolate Bouquet!
Reese's Pieces
A sensational spin off that deserves its own spot, Reese's Pieces were introduced in 1978 and consist of little mini pieces of peanut and chocolate. They became hugely popular in the '80s, particularly after featuring in the movie E.T.
Razzles
An '80s classic, Razzles are hard chewy sweets that, after a minute or too of chewing, turn into chewing gum. Hugely popular in America, they never really made a mark on sweet lovers in the UK. The main flavour is raspberry, although nowadays you can get Razzles in orange, lemon, grape and blueberry.
Ring Pops
Apparently invented by a dad who wanted to stop his daughter sucking her thumb, Ring Pops come in the shape of a ring which you can wear and suck away at until your heart's content. Made by the brand Topps, Ring Pops are big, brash and delicious, coming in a variety of flavours such as strawberry, raspberry, watermelon and blue raspberry.
Hugely popular in American candy stores, they are often served up at birthday and Halloween parties.
Other sweets that begin with R
Roll'up

Rosey Apples

Rubble

Rock candy
---