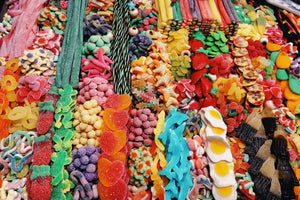 Encyclopaedia of Sweets - Sweets Beginning with The Letter O
Ok so you'll be surprised by how few sweets begin with the letter O! As you can see we've only managed to get 3 down and this was tougher than you'd think (unless of course we go through and list all of the 'orange' sweets we can ;)

In this post, we'll highlight some of the most popular sweets beginning with "O," including Orange Slices, Opal Fruits, Oreo Bars, and Orange Jelly Beans.
Orange Slices
First up, we have Orange Slices. These chewy, fruity treats are a classic candy that has been around for generations. Made from pure cane sugar and infused with natural orange flavor, Orange Slices are a favorite among candy lovers. Whether you're enjoying them as a snack or using them to decorate a cake or dessert, Orange Slices are a delicious and versatile treat.
Opal Fruits
Next on our list is Opal Fruits. If you're from the UK, you might know them as "Starburst," but they were originally called Opal Fruits when they were first introduced in the 1960s. These chewy fruit-flavoured candies come in a variety of flavours, including lemon, lime, strawberry, and orange. Opal Fruits are a fun and tasty treat that is perfect for sharing with friends.
Oreo Bars
For the chocolate lovers out there, we have Oreo Bars. These delicious candy bars are made with Oreo cookie pieces and smooth milk chocolate, creating a crunchy and creamy combination that is sure to satisfy your sweet tooth. Oreo Bars are perfect for when you're on the go and need a quick snack or for when you're craving something sweet after dinner.
Orange Jelly Beans
Last but not least, we have Orange Jelly Beans - because we needed to add one sweet that started with the word orange. These small, sweet treats are a popular candy that is enjoyed by people of all ages. Whether you're snacking on them while watching a movie or using them to decorate a cake, Orange Jelly Beans are a tasty and fun treat that you can enjoy any time. 
In conclusion, sweets beginning with the letter "O" offer a wide variety of delicious and fun treats for every taste. Whether you're in the mood for something fruity or chocolaty, there's something for everyone. So, the next time you're at the candy store, be sure to try some of these sweet treats and indulge in a little bit of sweetness.
---