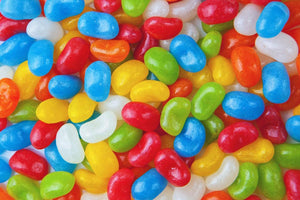 Funky Jelly Bean Flavours To Tickle Your Taste Buds
Are you an adventurous soul? Do you want to put your taste buds to the test? Are you prepared to push your boundaries? If you answered yes to all these questions, you'll want to read on! Don't forget to check out our sweet hampers as a number of our gifts include those classic jelly beans!
Black Pepper
Peppery, spicy goodness in a jelly bean? If you always add an extra teaspoon or two to your meal, you may like this funky jelly bean flavour. It's earthy, pungent, and intense, just like black pepper! 
Bubble Gum
This one is for bubble gum lovers! Are you always chewing on a piece of sickly sweet bubble gum? You'll love bubble gum flavoured jelly beans. For once you'll actually be able to digest this delicious flavour. 
Booger
Okay, this one isn't funky, it's just plain disgusting. Eating boogers is a big no-no! We don't dare try it, but apparently, it tastes as awful as it sounds. If you're feeling adventurous - and a bit reckless - try a booger flavoured jelly bean. 
Dirt
Dirt flavoured jelly bean? Pretty funky. The dirt flavour is earthy, woody, and very, very dirty. 
Cream Soda 
Cream soda is a fizzy drink made from soda water, vanilla extract, and sweetener. It doesn't really have much of a vanilla taste, it actually tastes a lot like cotton candy. Cream soda is overly sweet, making it a love it or hate it kind of thing. It's definitely a funky jelly bean flavour. Instead of a refreshing soda, you can eat a tiny version of it in a jelly bean! 
Cotton Candy
Cotton candy flavoured jelly beans are a fan favourite! People love this nostalgic sweet. Cotton candy flavour is essentially a combination of strawberry and vanilla (with added sweeteners, of course!). Want the delicious taste of fluffy, fairground cotton candy, but in a pint sized portion? Then this jelly bean flavour is for you!  
Tabasco
Tabasco jelly beans are packed full of flavour and heat. Tabasco jelly beans taste just like the tongue-tingling, red pepper hot sauce. These jelly beans are tabasco, but chewier!
Tutti Frutti 
Tutti frutti is a combination of apple, gooseberry, peach, raspberry, orange, pear, lemon, and strawberry.Tutti frutti is a delicious cocktail of fresh fruit flavours! It may be funky, but it's definitely yummy! 
Earthworm
Yuck! Earthworm flavoured jelly beans? Does it get any funkier? Earthworm jelly beans taste like the worst combination of the dirt and booger flavours. They are salty, dirty, savoury, and weirdly earthy. Gross. It's a "no" from us! 
Cappuccino 
Do we have any caffeine addicts in the building? Cappuccino flavoured jelly beans are filled with coffee, milk, and chocolate flavours. They are almost as addictive as a delicious, hot cappuccino from your favourite barista. 
Very Cherry
Very cherry! This is one of our favourite funky jelly belly flavours. These jelly beans are made with real cherry juice and taste just like a fresh, ripe cherry! This funky flavour will go down a treat! 
Earwax
Does it get any more disgusting than earwax? Challenge your friends and family to this awful snack. Or, you can play a version of Russian roulette. Replace the live gun with jelly beans. When the stakes are eating an earwax jelly bean, this might as well be a game of life or death. 
Rotten Egg
And you thought it couldn't get any worse? Rotten egg jelly beans are totally vomit-inducing. These jelly beans taste like a nasty combination of fish, egg, mould, and salt. Rotten egg jelly beans are another flavour that will make for a tense game of Russian roulette. Are you brave enough to give it a go? 
Sausage
If you're craving a sausage when you're out and about, eat a sausage flavoured jelly bean instead. Apparently, the flavour is completely uncanny! Who needs an oily sausage when you can just eat a sausage flavoured jelly bean. Although, would you really want to replace sausages in your full English for a jelly bean? Somehow I doubt it…
Vomit
Okay, now this is the funkiest one by far. Vomit flavoured jelly beans? It doesn't get much worse than that! 
Soap
Was your mouth ever washed out with soap when you were younger? If so, the taste of soap will be all too familiar. Do you want to relive these glory days in a soap flavoured jelly bean? Probably not! But at least you have the option. If you're ever playing jelly bean Russian roulette you might not have a choice. Fingers crossed you'll never have to taste that metallic, bitter taste again. Yuck!
Mango
Tropical mango flavour is another one of our favourites. Mango is refreshing, sweet, and juicy. It makes for a delicious jelly bean! We'll eat one of these delicious jelly beans any day of the week. 
These are the funkiest, most outlandish jelly bean flavours and some of them may even be available in our range of American Sweet Hampers.  
Chocolate Pudding
Chocolate pudding sounds like the best flavour of jelly bean ever. However, the reviews aren't great. People say chocolate pudding jelly beans are super funky, in particular the weirdly bitter aftertaste! You won't be in chocolate heaven after these funky beans! 
Buttered Popcorn
Buttered popcorn is a classic - but still funky - flavour. These jelly beans taste exactly like the buttery, hot popcorn at the movie theatre. If a popcorn and coke combo is your go-to at the cinema, you'll love these funky jelly beans! 
Stinky Socks
Sweaty, stinky socks may be one of the worst smells ever. Have you ever wondered what they taste like? Well, now you can find out! Stinky socks jelly beans taste absolutely rotten! They are one of the funkiest flavours out there. Think vomit mixed with rotten fruit and you're on the right track. 
Toothpaste
Toothpaste flavoured jelly beans are nasty! This isn't a refreshing peppermint flavour. Instead, it has that quintessential medicinal toothpaste flavour. There's a reason we don't swallow toothpaste! 
Plum
These jelly beans are flavoured with real plum juice. They're sweet, tangy, and tart. All the best parts of this delicious fruit are infused into these plum jelly beans. 
Crazy, right? Purchase one of our American Sweet Hampers today and try these funky flavours for yourself! 
---