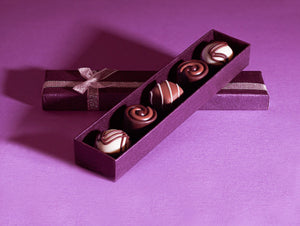 It's A Match! - The Perfect Chocolate Pairing Guide
We've put together a list of exquisite chocolate pairings. Our chocolate hampers and chocolate boxes are full of delicious chocolates that can be paired with so many amazing beverages. Be prepared to test your boundaries - and your palette - with this exciting list of chocolate pairings.  
Chocolate and Beer
A stout beer will pair well with dark chocolate. Stout already has a lot of chocolate, cacao, caramel, and coffee notes in it. A high percentage dark chocolate will bring out these flavours. It's a match made in heaven! The cacao notes in stout are quite subtle, so it doesn't overpower the dark chocolate. When you're pairing chocolate and beer it's important to not choose two overwhelming flavours as it will become too intense. Stout and dark chocolate are both subdued enough to pair really well together. Try some dark chocolate and stout as an afternoon pick me up or next time you're at the pub! 
Chocolate and Wine
Chocolate and wine are a classic pairing! We love pairing chocolate with a deep red or a bubbly glass of prosecco. Red wine lovers will love how dark chocolate pairs seamlessly with the fruit and spice in red wine. Try to find a dark chocolate that is rich and savoury. This will taste amazing alongside your favourite drop of red. Alternatively, you can pair a milk chocolate with a prosecco. The sweet cacao works so well with the light floral notes of prosecco. We recommend trying a couple of different types of wine and chocolate to find the perfect pairing. It may take a couple of attempts to get the winner! 
Chocolate and Tea
It's afternoon tea time! Caramel milk chocolate with a cup of hot milky English Breakfast is a fantastic combination. The naturally sweet, creamy tea matches perfectly with the rich butterscotch. Chocolate and tea are one of our favourite afternoon treats. Trust us, you'll soon be a convert too!
Chocolate and Coffee
Chocolate and coffee work so well together! This is another delicious combination to enjoy mid-afternoon or as a digestif after a meal. The bitter, savoury notes of coffee beans balance out the sweetness of chocolate. We love to add a little bit of ground coffee in brownies or put some chocolate syrup into our morning coffee. If you want to enjoy this pairing at dessert, think about making an espresso after dinner with a bar of milk chocolate. This is a fantastic easy dessert that anyone will enjoy. The rich cacao and bitter coffee are the perfect mixture of savoury and sweet. 
Chocolate and Cheese
You don't just have to pair chocolate with beverages! Have you ever thought about pairing chocolate with parmesan cheese? Yep, the sharp, savoury, saltiness of parmesan actually goes really well with dark chocolate. You can also pair creamy, mild cheeses like brie, goat, ricotta, or cream cheese with milk chocolate. If you're feeling adventurous, add a little cheese and chocolate to your next cheese board. Simply grate a little chocolate on top of your cheese of choice. You might be surprised! 
Chocolate Pairing Guide
We've made a helpful pairing guide for your chocolate. These are all the foods, beverages, and 
White Chocolate: Fresh berries, dessert wine, peach, cherry. 

Milk Chocolate: Prosecco, mild cheese, coffee, nuts, orange, citrus. 

Caramel Chocolate: English Breakfast tea, port, whiskey. 

Dark Chocolate: Stout, red wine, strong cheese, coffee, savoury snacks. 
We hope you've enjoyed this list of chocolate pairings. Next time you purchase  chocolate hampers and chocolate boxes from the Amazing Hamper Company, make sure you give these delectable pairings a go. They are guaranteed to knock your socks off! 
---