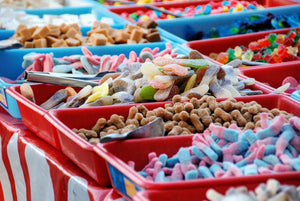 Some of The Most Sour Sweets In The World!
Have you ever wondered what the most sour sweets in the world are? The kind of sweets that make your tongue tingle and your mouth water? We've found the craziest sweets in the world. Keep reading to find out what these delights are… 
We have of course included a number of these sour and fizzy goodies in our fizzy range, including the large fizzy sweet box.
Warheads
Warheads are a super sour, hard boiled candy. Only the adventurous and the brave can eat these crazy sweets. They aren't for the faint of heart. Warheads are well and truly one of the most sour candies in the world! Warheads come in a variety of flavours like Watermelon, Green Apple, Cherry, and Blue Raspberry. Get your friends together and challenge each other to eat these intense sweets! 
Toxic Waste
Toxic Waste comes in five delicious flavours; Strawberry, Pineapple, Lime, Blue Raspberry and Tangerine. Toxic Waste is so sour and acidic there's a warning label on the packet! The warning reads "Caution: Consuming more than one within a brief period of time may cause irritation to the mouth." Do you dare try this crazy sour candy? 
Jolly Ranchers
Jolly Ranchers are hard boiled candy. They can't really be eaten,  you actually need to suck the candy until it has dissolved. Jolly Ranchers,  were invented in 1942 by Bill and Dorothy Harmsen and have since become one of the most popular US sweets. The name was inspired by the cowboys and ranchers in their hometown in Colorado. Some of the sour flavours include Wild Strawberry, Green Apple, Watermelon, Cherry, and Blue Raspberry. There is a flavour for everyone! 
Sour Patch Kids
Sour Patch Kids are soft, chewy candy. They are coated with sour sugar on the outside. Sour Patch Kids come in a whole range of wonderful flavours like, Lemon, Orange, Lime and Cherry (sour!). Fresh fruity flavours combined with strong tartness make Sour Patch Kids completely irresistible. Once you chew through the sour exterior, you get a delicious sweet centre. Sour Patch Kids are delicious and fun! 
Fizzy Bubblegum Bottles
One of our most popular sweets and included in a range of our hampers and boxes. These pink and blue fizzy bubblegum bottles are bubblegum flavoured with a sugar sherbet coating. These are, sour, sweet and very flavoursome candies you'll absolutely love! Our Sweet Hampers are filled with traditional sour sweets and popular modern favourites! We've got something for everyone! 
Fizzy Watermelon Slices
Fizzy watermelon slices are so popular right now! Watermelon slices are a chunky jelly sweet that are flavoured with watermelon and coated in a fizzy sugar coating. These have an incredible taste and are a popular sweet for wedding sweet carts and parties due to their fun colours!
Double Dip Original
Double Dips are a traditional English sweet! They were first released in 1976 and have been enjoyed ever since! Double Dips most popular flavour is an Orange or Cherry flavoured lolly and a sherbet dip. The lollipop is intended to be dipped into the sherbet for a sweet, fizzy, sour flavour. There are alternative flavours available!
Stinger Bar
Stinger Chew Bars are tutti frutti flavoured strips with an amazing fizzy sherbet centre. They are a classic retro sweet from the 80s and 90s that are a fun addition to our Sweet Hampers. They are just sour enough to give a bit of kick without being unpleasant! 
Refresher Sour Apple Bar
Be warned! Refresher Sour Apple Bars are super sour! Think of a fresh, sour apple and you've got a Refresher Sour Apple Bar. These candies are a refreshing, zingy treat! You're going to love them!
Mike and Ike Sour 
Mike and Ike are oblong fruit-flavoured, chewy sour sweets. Mike and Ike come in flavours Cherry, Strawberry, Orange, Lemon, and Lime. You can purchase these American Mike and Ike in different flavour combinations such as Tropical Typhoon, Berry Blast, and Jolly Joes. Mike and Ike Sour are intense but still enjoyable. You'll love them if you enjoy sweet and sour candy. The best of both worlds! 
Sour Skittles
Sour Skittles are a great reinterpretation of a well-loved classic. These tiny candies are coated in citric acid. They are chewy, sour little balls of fruity goodness! Sour Skittles come in flavours like Strawberry, Green Apple, Orange, Grape, and Orange. 
Nerds
Nerds are neon-coloured, pebble shaped mini candies. Nerds are either very sweet or very sour depending on what flavour you're enjoying. The fun part is, there's no way to tell what one you're going to get. It's always a gamble eating these crazy little candies! Are you ready to try the Russian Roulette Nerd edition? 
Nerds are included in a number of our American sweet hamper range!
We hope you've enjoyed reading about the most sour sweets in the world. Let us know in the comments below what your favourite type of candy is! And don't forget to check out our other super sweet blogs on all things candy! 
---