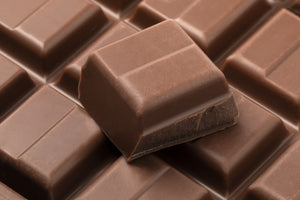 Encyclopaedia of Sweets - Sweets Beginning with M
We're just over halfway in the alphabet of sweets and candy, and in this article we'll be taking a closer look at the delicious sweets, chocolate and candy which start with the letter 'M'.
From a Milky Way chocolate bar and traditional milk chocolate to Marshmallows and mint humbugs, there's plenty of candy to choose from, many of which can be found in our sweet hampers and candy hampers. We're sure that you'll find your taste buds tingling as you read this blog!
 With out further a do, sweets beginning with the letter M;
Milk chocolate
You can't go wrong with a bar of candy chocolate, especially a bar of milk chocolate. Loved the world over, it is believed to be the most popular type of chocolate candy, beating a dark and white chocolate bar because of milk chocolate's smooth, silky consistency.
One of the UK's favourite brands of milk chocolate is a Cadbury's Dairy Milk bar, a chocolate bar which was invented and introduced in 1905 - that's almost 120 years ago! Dairy Milk has since gone global with people from all corners of the globe enjoying its sweet milk flavours. Its slogan is 'glass and a half' referring to the milk that is contained in the recipe. If you're a fan of Dairy Milk you'll love our Dairy Milk chocolate hamper!
Milk chocolate's recipe consists of mixing cocoa with milk and sugar to create a delectable milk flavoured bar. This tasty treat also comes in many different varieties and flavours, from mint, caramel and honeycomb fillings through to fruit and nut.
Milky Way
A classic childhood candy treat, a Milky Way bar consists of a soft, chewy centre covered in a layer of smooth milk chocolate which when you eat it creates a delectably squidgy texture.
Milky Way candy bar has a few different varieties here in the UK, including Milky Way Stars (small milk chocolate drops in the shape of stars), and Milky Way Crispy Rolls (a mousse style filling surrounded by a crunchy wafer).
A Milky Way bar can also be found in mini form in tubs of Celebrations.
M&Ms
Originally invented in the 1940s in the USA, M&Ms have become a favourite candy chocolate treat across the world. This familiar confection is available in a a range of flavour creations, including peanut and crispy, and this colourful candy is loved by kids and adults alike. With a tasty chocolate centre surrounded by a crisp candy shell, M&Ms provide a chocolate candy sensation like no other.
This candy was invented by the son of the famous Mars Company Founder after he came across British Smarties. He wanted to create something for the American market and he decided to develop the M&M candy based on the British candy called Smarties. And have you ever wondered why M&M candy is called M&M? Back in the day, the small colourful candy was named after the co-founders of the company that produced them - Mars and Murrie.
Mars Bar
Another classic chocolate bar, Mars Bars were invented by the same company that developed M&Ms. First manufactured in the UK in 1932, an American version of a Mars Bar was developed some years later - you'll find a Mars Bar is slightly different across the pond!
The UK version of this chocolate bar consists of caramel and nougat coated in a silky milk chocolate. Whilst the American version of the bar includes toasted almonds as well as the milk chocolate coating. This chocolate bar is a favourite here in the UK, being rated within the top five of the population's favourite chocolate and candy bar.
Mike and Ike
These colourful fruit flavoured drops provide a flavour sensation. With flavours including strawberry, mint, lemon and sour fruits, there is a wide variety of tastes to try.
Mike and Ikes first appeared on candy shop shelves back in the 1940s, and they have remained a popular candy in the US for decades.
The origin of the unusual name of this candy is much debated and no one really knows why they are called Mike and Ikes, although some people suspect they are named after an American comic strip.
These can be found in some of our American Sweet Hampers!
Marshmallows
Fluffy, soft, squidgy and full of flavour, marshmallows are an all time favourite candy with young and old. The name marshmallows comes from the mallow plant species which originally was used to create a medicinal candy many centuries ago. It has since developed into the mousse like candy we know and love today. Whether you enjoy toasting them over an open fire to create a sticky mousse like candy, or you prefer biting into the gooey candy just as it is, this sweetie has been loved for generations.
Macaroons
Not technically a candy in the sense of jelly like texture, macaroons are a delicacy which combine the crunch of a cookie with the softness of caramel. Coated in coconut, macaroons originally came from Italy as an ancient candy. You can find other flavours of macaroons including mint.
Macarons
A French delicacy, Macarons come in a rainbow of colours and a wide variety of tastes. This meringue like candy is created using almonds and has a soft gooey centre with a fruit, mint or chocolate flavoured filling. The first mention of macarons is back in the 16th century, however they became incredibly popular during the Victorian age with Paris becoming famed for its pastry shops which always offered a kaleidoscope of macarons. Perfect for enjoying with coffee and milk. 
Marzipan fruits
Marzipan is a traditional candy which dates back centuries. Marzipan fruits are a favourite during the Christmas season. Marzipan fruits are seen as a luxury candy, with many brands hand crafting the fruits with great care to make them look as realistic as possible. You can find all types of fruits in a bar of marzipan fruits, from pears and apples through to bananas and strawberries. Each one is individually crafted and hand painted with a dusting of sugar. You can also find them covered in milk chocolate for an even sweeter candy taste.
Marzipan candy is created using almonds, sugar, milk and honey and creates an almond flavour with a firm texture.
Mint Humbugs
Providing a refreshing mint flavour, mint humbugs are a retro hard boiled candy which can often be found in old fashioned candy shops and pick and mix stations. These mint sweets are usually striped in black and white and its believed that they first appeared in the 1820s in Northern England. Usually flavoured with pepper mint, the taste of a mint humbug is instantly recognisable.
---