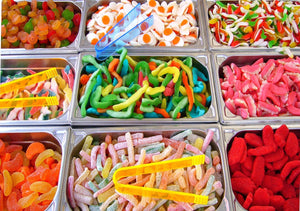 Sweets Beginning with Q
At the Sweet Hamper Company, we take pride in our knowledge of sweets from all over the world. There's not much we don't know about sweets, candies and chocolates – from the past right up until the present.
As you know, we've packed our sweet hampers, sweet boxes, sweet bouquets and all our other sweet gifts with many of these classic sweets.
We also wanted to share our love of sweets in a different way. So, we decided to deliver a deep delve into the delicious world of sweets, with the Sweet Hamper Company's Encyclopaedia of Sweets!
Each blog post, we'll bring you the low down on sweets, chocolate and other assorted candies starting with different letters of the alphabet – the complete A-Z of candy!
Next up... it's a tricky one. Sweets that start with Q. How many can you think of?
Sweets beginning with Q
Quality Street
Nostalgic sweets don't get more iconic than the assorted chocolate box known as Quality Street. In fact, this much loved sweet collection was founded on the very idea of nostalgia!
Way back in 1890, sweet maker John Mackintosh created a new kind of sweet by mixing hard toffee with runny caramel. A few years later the sweets proved so popular that he opened the world's first toffee factory. John later passed the business on to his son, Harold, who wanted to produce affordable assorted chocolate boxes for working class families.
And so Quality Street was created in 1936. A few years later, during WW2, Quality Street became a symbol of nostalgia and national pride. Almost a century later, these sweet treats have cemented their status as a British institution.
Quality Street is made up of 15 different milk chocolate sweets: the purple one (hazelnut and caramel), the green triangle (hazelnut and praline), the toffee finger, the strawberry delight, the caramel swirl, the milk choc block, the chocolate orange crunch, the orange creme, the fudge one, the coconut eclair and the toffee penny. According to surveys, the Green Triangle is the best loved, while the coconut eclair is the one most likely to be left in the tin.
Don't forget, you can get a box of Quality Street as part of our Biggest Ever Chocolate and Sweet Hamper!
Quince Candy
Have you ever heard of quince? It's a small yellow fruit with a similar taste to an apple. When it's raw, it's tough and tart. However, when cooked, it's soft and sweet. Add sugar during the cooking process and leave it to dry and you've got quince candy... the perfect treat for those who love a fruity sweet.
Homemade quince candy is a popular traditional sweet in many parts of Europe, including Greece, Turkey, Croatia, France and the Netherlands. These tasty treats can be flavoured with anything from lemon and lime to coconut and even chopped nuts, although they are perfectly delicious with just sugar.
The ideal sweet for Christmas and the holiday season, quince candy sweet fruity flavour that explodes in your mouth, not to mention a wonderful gummy texture that calls to mind nostalgic sweets such as Gummy Bears and Fruit Pastilles, or even Turkish Delight.
Quench Gum
One of the most popular chewing gum brands in the U.S., Quench gum is aimed at sports and performance. Known for its thirst quenching abilities (hence the name), as well as its hydrating properties, Quench has long been the go-to gum for those who like to chew as they play.
Quench contains electrolytes, which help athletes maintain performance for longer. They're not only popular with sports performers, but also hikers. Essentially, any activity where you need extra energy and hydration.
Unlike many other types of chewing gum, Quench gum comes in individually wrapped packets, kind of like sweets. The taste is fruity and tart, with a refreshing sensation.
Quench gum comes in a variety of flavours, including lemon fruit punch, strawberry and grape, peppermint, strawberry watermelon and double raspberry.
Q.bel Crispy Chocolate Wafers
A healthier twist on the humble chocolate wafer, Q.bel launched in 2009 with an effort to provide something a little different. Aimed at those with a sweet tooth, but who wanted something a little healthier, Q.bel was created by a health conscious father in the U.S., whose son was frustrated with not having the same sugary snacks as the other kids at school.
He decided to create a quality, low-calorie snack made from silky Belgian chocolate, 100% natural whole grain wafer and a few other simple ingredients. The name Q is for quality and the "bel" is for Isabel, the name of the founder's wife. The wrappers are marked by the pair of words "All Natural", to highlight their lack of additives.
Q-bel comes in two distinct types – wafer bars (thicker and more decadent) and wafer rolls (lighter and crispier). Flavours include milk chocolate, dark chocolate, deep dark chocolate and chocolate peanut butter. Each packet comes in double chocolate wafers, kind of like a KitKat but thicker.
Quality Sticks
Designed to help smokers kick the habit, these premium cigarette-shaped chocolate sticks are handcrafted from Belgian chocolate and packaged in a retro-style cigarette box.
The idea of chocolate sticks goes way back to the 19th century. This particular form of chocolate stick, Quality Sticks was the invention of Gerrit's, a chocolatier in Michigan, founded in 1979. They realised that there was a demand among their customers for a chocolate that would help cigarette smokers stop smoking.
As chocolate is quite often used as a good alternative for those looking to kick the nicotine habit, they decided to make Quality Sticks – a chocolate shaped like cigarettes and sold in a cigarette box, to help ease smokers out of their addiction.
Gerrit's Quality Sticks have proved popular across the U.S. with adults looking to kick the habit. Not just because of the retro packaging and cigarette-inspired design, but because the 100% Belgian chocolate tastes like a dream!
Quicksand
Now here's a retro sweet for you! A vintage bubblegum that was all the rage back in the 1970s, Quicksand was a novel product that combined two much-loved kids' confectionary items of the times – bubblegum and powdered candy.
The idea was to take the sweet powdered candy (the "quicksand"), which came in a pouch, and pour it straight into your mouth. Chew for a while, and the powder magically turns into bubblegum!
Produced by The Fleer Corporation in Philadelphia, Pennsylvania, Quicksand bubblegum came in big bright packaging to entice kids. Flavours included grape, orange, cherry and raspberry, and kids used to buy different flavours and mix them together to create their own unique blend.
Unfortunately, Quicksand rather aptly sank without a trace in the '80s, as newer products came into the market and burst their bubble. For certain grown ups with a nostalgia for the '70s, it's still a fondly remembered bubblegum.
Q'Rico Candy
Fancy something a little bit different? Like your candy on the fiery side? Q'Rico candy is a Mexican sweet that packs a punch. A magnificent mix of sweet, spicy and sour, this candy is made from dried fruit that's been flavoured with seasonings such as sugar, spices and chillies.
Flavours include mango, chilli, salted plum, banana, blueberry, raspberry, pineapple and apple. The name comes from the Spanish for "how tasty" (qué rico!).
---