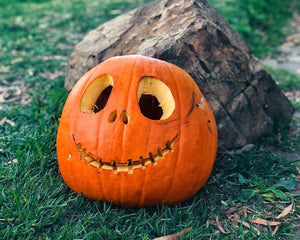 From Fizzy Fangs To Dracula's dentures - Top 10 Halloween Gruesome Sweet Treats 2022
Knowing what sweets to pull out for each spooky season can be a tricky one. There are so many brands offering a range of delights, but you want to keep it fresh! Well, in this article, we're going to talk about a whole range of great halloween sweets treats that are ghoulishly good!
Fizzy Fangs
Fizzy fangs are a classic Halloween sweet that we really adore! They're essentially just a type of jelly candy that's been shaped into the rough appearance of a set of vampire fangs. Then, they're coated with sour powder and packaged up.
We love these because of their sharp flavour and spooky look! We include fizzy dracula teeth in our large fizzy sweet hamper!
Mini Chocolate Eyeballs
Small chocolate eyeballs were a Halloween staple when we were kids, and they're still going strong now! Essentially, the idea is simple: they're little spheres of solid chocolate that are wrapped in foil painted to look like little eyeballs.
We can always remember having trouble getting the foil off the second or third one since our fingers were sticky with the chocolate! Aside from that, though, the eyeballs were delicious.
White Mice
White mice are something that you rarely see outside of specialist sweet shops on the high street, but they're truly stupendous. Depending upon where you're buying them and what brand they happen to be, the mice can have totally different ingredients. Sometimes, they're made from a simple sugar paste. Other times, it's marzipan! Most commonly, though, they're white chocolate with a tail made from string.
Gummy Worms
Gummy worms have become an all-year-round candy, that's hwo tasty they really are in the great scheme of things. We really enjoy them, since they combine the pleasant texture of gummy candy with the enjoyment of nibbling at something a few times before it's gone.
We'd suggest trying to seek out the gummy worms with a translucent top and an opaque belly - they tend to be a bit milder in flavor, meaning that you can have a few more of them.
Spooky Jellies
Gummy worms aren't the end of things by any means - there are spooky jellies aplenty out there in the world of candy, and they're all increasingly interesting. With modern techniques, candy makers can get jellies shaped like skulls or spiders easily, meaning that your next pick and mix could be a spooky one!
Tongue Painters
Candy that paints tongues has long been on our hands, though it's been accidental for a long time. The truth of the matter is that this hasn't really mattered too much: people enjoyed the candy all the same.
In the modern day, candy makers are using tongue-painting chemicals to be sure that you and your kids have an exciting time come this Halloween!
Cadbury Goo Heads
Cadbury goo heads are really quite interesting since they're fairly new! They're interesting examples of candy since they're really a deviation from the Cadbury cream egg. Instead of being shaped like an egg, though, they're shaped into spooky skulls for your Halloween frights!
Spooky Percy Pigs
Percy pigs from M&S have had a similar Halloween deviation - they've become spooky pigs! There's not too much of a difference between these gummies and the normal ones, other than the fact that these gummies are shaped as though they've been carved from a pumpkin - fangs and triangular eyes create this image for the eater as they're munching away.
Candy Corn
Candy corn has long been a popular confectionery in the US, and it's becoming more popular internationally too, now. The reason for this is quite simple, in honesty: the candy is tasty, and looks cute!
Really, it's a simple concept - the candy is shaped like a sweetcorn kernel, and colored as such too. Their flavor is buttery and honey-like, though their texture is quite similar to most gummy candy. They're a tasty option to go for if you've never had them before!
Pumpkin Marshmallows
Pumpkin marshmallows might sound a little odd, but they're actually something that we've seen in a number of spots in recent years. Instead of being the classic cylindrical shape, pumpkin marshmallows are spherical, and dyed orange to create the effect. Some of these marshmallows also have a small green flesh of marshmallow on top, creating the effect of a small stalk poking out of the top of a pumpkin.
We haven't seen any of these that have looked as though they've been carved, but perhaps that's on the way in the coming years!
We hope that this article has given you an insight into some great candy choices for the Halloween season. There's a great candy offering out there, and we'd love to think that we've helped someone try a new sweet treat this year.
If our article has put you in a sweet mood, consider picking up a sweet and tasty hamper from us, where you can build your own sweet hampers sure to satisfy any sugary cravings that you might have.
---