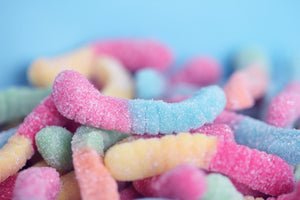 Top 10 Valentine's Day Sweets
Valentine's day is one of the best times of the year that you can give your loved one a gift that's just as sweet as they are. It doesn't have to be too complex, over the top, or tricky - rather, it can be simple and tasty with little effort at all.
Here, we've compiled a short list of some of the best sweets to give or receive on Valentine's day - enjoy!
Pink Jelly Beans
For Valentine's day sweet hampers, there are a number of different candy companies that focus on the colour pink. Oddly enough, though, no one really does it better than jelly beans!
The reason that jelly beans, from big brands like Jelly Belly to smaller, independent brands, do so well with the pink offerings is that there is a wide range of flavours to choose from. For instance, the whole year round, bags of jelly beans can contain a wide range of delicious candy offerings that are beautifully pink. When it comes to Valentine's day, you can select some of those pink options, and you'll be ready to go!
Milk Chocolate Hearts
Milk chocolate hearts are, perhaps, a very simple option, but they're an option that works wonderfully well to make a tasty treat!
The truth of the matter is that virtually everyone adores milk chocolate. It has undeniable chocolate flavour while also being neither too creamy nor too bitter for people to adore it. This is one of the things that makes it a wonderful Valentine's day gift - it can be shared and appreciated by nearly everyone!
Lindt Chocolate
Lindt chocolate really sees a boost in popularity over Valentine's day period. It has a wonderful reputation for a smooth and creamy flavour, and that flavour is used to make some wonderful gifts during February.
One of the main reasons that it does so well, though, is that Lindt has successfully integrated a number of brilliant flavours into their chocolate. From simple options like mint or orange, there are more complex ones that make appearances during Valentine's season.
The most notable one of these chocolate offerings is the strawberry and cream option - it's a smooth white and pink colour, offering a gentle flavour that's totally appealing to everyone. An array of these flavours can be found in our very own Lindt chocolate hamper.
Soft-Centred Chocolate
While Lindt has cornered the market of soft-centred chocolate in the form of their Lindor balls, we also appreciate other soft-centred offerings.
For instance, chocolate options that have a filling packed with caramel, Turkish delight, or mint cream can all be a wonderful way to spring a tasty surprise on someone.
Hershey's Kisses
While these candies can be a little tricky to track down if you're outside of the US, they're perhaps the most thematically appropriate option to consider over Valentine's day. After all, they're literally named kisses!
These treats are small, sweet bites of chocolate that are individually wrapped in silver foil. They're typically very smooth and rich, as well as being bite-sized. This means that they can be wonderful for any chocolate lover, offering great flavour as well as great texture.
Roses Chocolates
Roses chocolates are a great example of a typically British candy that makes a wonderful gift during Valentine's season. As flowers are typically a very romantic gift that one might give or receive during February, it's a sweet change of pace to offer chocolate named after that gift. If you'd really like to nail the point home, you could offer the chocolates and the flowers at the same time!
Love Hearts
Love hearts have a number of different names around the world, but calling them by their British name makes for a sweet point during Valentine's day. Love hearts are a popular sweet in most of our sweet hampers.
Love hearts have a heart on their faces, of course, and they also have a short message, too. Typically, this message can be sweet and kind, or it could also be a little cheeky. Either way, you and your loved one can have a giggle and a munch at the same time.
Novelty Flavoured Sweets
If you're looking for a gift that the two of you could also spin out into a short, fun date moment, some sort of novelty candy could be a great idea.
For instance, there are many candy brands that sell boxes where some candies are sweet and tasty, while others are bitter or particularly pungent. Enjoying the silliness of that event could be a very simple date, provided you spend it with someone that might enjoy that sort of thing.
Oreos
Oreos might sound like a bit of a cop-out, but bear with us! Since Oreos are such a popular snack item, you can find a huge variety of different games, tricks, and activities to do with them.
If you and your partner share a love for the little cookies, then you could easily think up some form of activity to do together. Alternatively, you could simply eat a sleeve together while dunking into a glass of milk and chatting. Sometimes, just being together is the date itself, and the thing you're doing is something of a pretext to spend time with one another.
Seasonal M&Ms
Okay, so M&Ms are a wonderful candy, from their size and shape to their wide offering of different flavours. The truth of the matter is that it's nearly impossible to nail down what your favourite flavour is, since there are always new options on the market.
If you and your partner are the type of people that might enjoy following new and emerging M&Ms as they come to the fore and are sampled around the world, then a few different bags of M&Ms can be a great way to spend a little time doing something together. Why not buy a bag of every variety you can find, and then spend time with your partner ranking them together? A fun debate about whether peanut M&Ms are better than caramel ones is sure to be a bit of fun!
We hope that this short article has given you an idea or two for Valentine's. It can be tricky knowing what candy your partner might prefer, so we hope that this list has given you a push in the right direction!
---