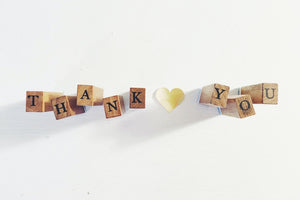 Why Sweets & Chocolate Make an Ideal Corporate Gift
Sweets and chocolate can be a wonderful thing to hand out as a corporate gift. Not only are they tasty treats, but they can be handy for a large office, team, or any other group of people. So, if you want to thank your team, give everyone a morale boost, or even just do something simple for everyone, sweets and chocolate would be a great choice.
We have a range of sweet hampers and chocolate hampers that are ideal for corporate gifting. We also offer bespoke card design and tailored messaging for all corporate orders. 

Let's talk corporate!
Something for everyone
The key thing that we adore about chocolate and sweets as a gift is that there is something for everyone, especially in a hamper or a box containing different brands, flavours, and combinations of great chocolate. You could even get some sweet bouquets for your clients or staff for something really special!
We offer a range of hampers to suit this format, and we do it for a simple reason - opening a gift to find something you dislike is a terrible feeling. Instead, you'll allow people to open a hamper and find a range of great sweets and chocolate, some with a fruity flavour palette, others with a chocolate palette, and know that there's something in there for them, somewhere.
Plus, there can be something for everyone in a hamper in a more literal sense. If you're buying a gift for several dozen people, then it can quickly become hard to physically track down such a large number of gifts.
Take the work out of it by organising a hamper - in a hamper, you can quickly and effectively organise gifts for a large number of people.
Minimal allergy risk
Sweets and chocolate can be a great idea because of the lack of an allergy risk that these foodstuffs generally represent. The main allergies that you might encounter when organising a candy hamper is milk, nuts, and soya. These can typically be avoided by switching the category of candy that you're looking at.
Typically, milk, nuts, and soya can be found in chocolate. If you know that there are a few people in your workplace with intolerance to those items, then you can make sure to order candy options as well. That way, they will have something to enjoy while people around them are eating chocolate: no one is left out.
This goes the other way too, of course. If someone happens to be allergic to something in skittles, for instance, then they can likely find a chocolate bar that they might enjoy eating.
One fell swoop
Buying gifts on a corporate scale can be tricky down to the logistics of things. For instance, it can simply be difficult to ensure that all the gifts are shipped on time, and arrive in your office in time to be wrapped or otherwise prepared.
A hamper of sweets and candy takes the difficulty of that logistical side of buying a great many gifts. The main reason for this is that the gift is all in one piece. It will be shipped totally assembled and ready to be presented, so all you have to do is place it on a table and say a few words.
This is an oft-unsung element of buying one large gift for many people, but it's a great element that we think goes under-appreciated. Eliminate any level of stress, and confusion, and leave it up to other people easily with a sweets and chocolate hamper for the people in your office.
Personalisable Gifts
Ensuring that a gift is personalisable is generally important when you might consider buying a gift for just one person, but it can be important when purchasing a larger hamper for a lot of people.
For instance, if you're buying a hamper to give to a group of people in celebration of hitting a certain milestone or achieving something, then personalising the basket with a short message can be a very sweet idea indeed.
Personally, we feel that the best way to do this is to place the personalised message front and centre of the basket itself. This will allow people to come and gather what they might want from the basket with their eyes traveling over a sweet message from you. Not only is it a good way to share the love that the gift represents, but it is also, simply, a pretty way to display a kind sentiment.
We hope that this short article has filled you in on the numerous benefits of purchasing a hamper packed with sweets and chocolate - it's a great way to spread a little love in the office!
---