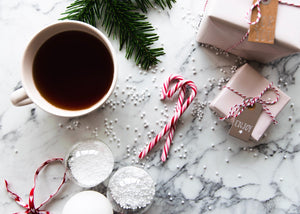 Popular Christmas Sweets For 2022
We've found the most popular Christmas sweets for 2022! Keep reading to find out how to make your Christmas extra sweet and special this year. All of these delicious sweets are available to purchase in our festive Christmas Sweet Hampers and Christmas Sweet Boxes! 
1. Green & Red Candy Canes
Green and red candy canes are an amazing festive treat. Candy canes are peppermint flavoured, hard boiled candy that are shaped into a cane. Candy canes are a Christmas tradition! They are such a fun, yummy celebration of the festive season. Our Christmas Hampers are filled with a variety of delicious candy canes. What are you waiting for?! 
2. Christmas Penguins
These penguin shaped candies are perfect for snacking on at Christmas! Christmas penguins are soft gummy flavoured with fresh blackcurrant. These sweets are so popular because they are tasty and super cute! 
3. Christmas Trees
These candies are shaped into delectable little Christmas trees! They are flavoured with strawberry and apple juice. They are definitely going to put you in the festive mood, while also satisfying your sweet tooth! 
4. Christmas Foiled Chocolate Shapes
Christmas foiled chocolate shapes are a lovely little Christmas treat. These gorgeous chocolates are foiled into festive designs like Santa and Rudolf. We've treated you to a whole bunch of yummy Christmas chocolates in our Christmas Hampers available now!  
5. Riegelein Milk Chocolate Santa 
Riegelein Milk Chocolate Santa's are a classic Christmas tradition! Riegelein are foiled Christmas chocolates, shaped into Santa Claus! Riegelein uses high-quality, smooth, rich milk chocolate. These are fantastic desserts after your Christmas lunch or as a little mid-afternoon pick me up! 
6. Red & Gold Milk Chocolate Coins
Chocolate coins are another Christmas tradition! In fact, chocolate coins are actually a symbolic Christmas gift. Gifting chocolate coins are thought to bring good luck and wealth to the recipient. Saint Nicolas - yes, the person who inspired Santa Claus - gifted gold coins to needy women during the festive season to pay for their dowries. This is where the gold coin Christmas tradition began. Now, people all over the world stuff their stockings with chocolate coins at Christmas time.  
8. Fizzy Bubblegum Bottles
Pink and blue fizzy bubblegum bottles are flavoured with a yummy sherbet coating. These are zinging, sour, sweet candies you'll absolutely love! Our Christmas Hampers are filled with traditional Christmas sweets and popular modern favourites! We've got something for everyone! 
9. Fizzy Watermelon Slices
Fizzy watermelon slices are so popular right now! Watermelon slices are a chunky jelly sweet that are flavoured with watermelon and coated in a fizzy sugar coating. If you like sweet and sour, you'll love fizzy watermelon slices! They are the perfect sweet snack all year around, not just at Christmas! 
10. Giant Strawberries
Giant strawberries are another on-trend candy! Giant strawberries are an iconic jelly sweet. They are essentially large, strawberry flavoured strawberries! It's exactly what's on the tin! Giant strawberries are a lovely, chewy, tasty sweet. It's popular for a reason! 
11. Double Dip Original
Double Dips are a traditional English sweet! They were first released in 1976 and have been enjoyed ever since! Double Dips include an orange or cherry flavoured lollipop and a sherbet dip. The lollipop is intended to be dipped into the sherbet for a sweet, fizzy flavour.
12. Refresher Chew Bar
Refresher Chew Bars are a fun, retro sweet. They are chewy candies filled with a fizzy sherbet centre. Refresher Chew Bars are available in all sorts of delicious flavours and are suitable for vegans! 
13. Giant Love Hearts
Show someone you care with giant love hearts! This candy is perfect for love birds of all ages. These fizzy, sweet love hearts will quickly become your new obsession! These popular sweets are found in a lot of our classic sweets hampers!
14. Stinger Bar
Stinger Chew Bars are tutti frutti flavoured strips with an amazing fizzy sherbet centre. They are a classic retro sweet from the 80s and 90s that are a fun addition to our Christmas Hampers. 
15. Mini Gummy Hot Dog
You're going to love these novelty mini gummy hot dogs. They taste delightfully sweet but are shaped like your favourite savoury hot dog. How fun is that?!
16. Flump
Flump is a British marshmallow sweet. They are a combination of pink, yellow, and white marshmallows that are twisted together in a delicious treat. Flumps are a crowd favourite! Everyone loves them, young and old. They are a chewy, sweet treat that are adored during the festive season. 
17. Drumstick Chews Original Sticks Pack
Drumstick Chews Original Sticks Pack are raspberry and milk flavoured chews. They are a soft, retro chew that are perfect for Christmas time! 
18. Sherbet Dip Dab
 Sherbet Dip Dab is a retro British classic. These sweets have a lemon sherbet dip with a strawberry flavoured lolly. They are a little tangy, a little sweet, and very delicious! They are a fantastic Christmas treat! 
19. Refresher Chew Bar Strawberry
Refresher Chew Bars are a fizzy strawberry snack! They are super chewy and moorish. You'll be eating these all Christmas day! 
20. Vimto Chew Bar
Vimto Chew Bars are made with real fruit juice and natural colours! They are the perfect guilt free treat! Vimto Chew Bars have a full-on fruity flavour that will leave you wanting more. Vimto Chew Bars are one of the most popular Christmas snacks!  
21. Refresher Sour Apple Bar
Be warned! Refresher Sour Apple Bars are super sour! Think of a fresh, sour apple and you've got a Refresher Sour Apple Bar. These candies are a refreshing, zingy treat! You're going to love them at Christmas time! 
22. Freddo
Freddo's are a Christmas favourite! These dairy milk chocolate frogs are a tasty and fun Christmas chocolate! It wouldn't be a proper Christmas without these beloved chocolates! 
23. Fudge
Fudge is the perfect stocking stuffer and Christmas dessert! It's wholesome, rich, and festive. We've put some very special, handmade fudge into all of our Christmas Hampers. They are guaranteed to be very popular at your Christmas dinner table! 
---